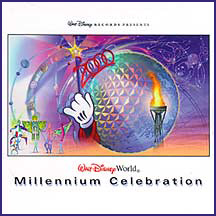 One of Disney's requirements was that any show had to thematically outlive the Millennium so it could continue to run for several years after the initial celebration. The original goal was for a five year show life beginning on October 1, 1999 but as of 2018, "IllumiNations: Reflections of Earth" continues to operate nightly and has been experienced by over five million park guests. The show continues to garner rave reviews and win industry awards.
The original music score was composed by Gavin Greenaway and recorded at the famous Abbey Road Studios in London by members of the London Philharmonic and London Symphony orchestras. The soundtrack was adopted by ABC Television and used for all of the Millennium celebration news and special coverage, resulting in an Emmy Award for Greenaway. Don provided original lyrics for the show's finale anthem, "We Go On."
read more about Reflections of Earth
©2022 Don Dorsey Consulting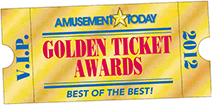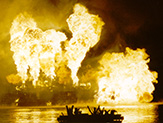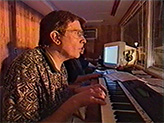 ---
The show begins with two pyrotechnic meteors colliding over Epcot's World Showcase Lagoon, utilizing special "air-launch" effects developed by Don in conjunction with Disney's Entertainment and R&D Divisions. The effect initiates a dance of fire and pyrotechnics erupting from the lagoon surface via a special effects barge (christened Don D's Inferno). Even though the closest park guests are over 500 feet away from the huge flames, they still react viscerally to the waves of heat generated as 200 gallons of propane is consumed by 37 custom-designed flame effects in less than 90 seconds. As a keyboardist, Don set up the barge to be played and programmed from a MIDI keyboard which saved valuable production time.
And Don wasn't kidding about moving the Earth. As its centerpiece, Reflections of Earth features a rotating, 350-thousand pound, 28-foot diameter steel and LED Earth Globe; the world's first spherical video screen. The Earth Globe begins the show "offstage" and makes a grand entrance, traveling across the 42-acre lagoon through a field of floating pyrotechnic stars, also custom-developed for the show. The continent-shaped screens light up with imagery of natural wonders, familiar locations, famous landmarks and great human achievements. After relating the story of our home planet from its cosmic "birth" event through the present day, the Earth Globe transforms and delivers a delivers a spectacular surprise ending and hopeful nod to the future with 1,000 points of pyrotechnic light, bringing the total of fireworks effects used in each performance to over 2,000.