©2011 Don Dorsey Consulting
---
Following Don's work creating and directing nighttime spectaculars for Epcot, Don's company was engaged by Disneyland in 1985 to begin researching and creating a nighttime spectacular show for the Rivers of America and Tom Sawyer's Island area. This part of the park had the largest potential audience area for a show, but presented many technical challenges.
Because the sightlines from the audience to the stage would cover a 180-degree angle, special and magical effects had to be designed to withstand scrutiny and perform safely when viewed from all sides. To help fill the space between the audience and the stage, special watercraft and moving stages would have to be built, and a place made to store them. To enable set changes to take place on the stage, some sort effect would be needed to distract the audience or create a "curtain."
Over the next five years, Don and his associates would consult with numerous specialists in the fields of magic, special effects, fountains, lasers, watercraft, multi-channel audio and projection. Plans and effects were developed, researched and tested. Presentations at all levels of Disney management were made. The commitment to a show of this scale was unprecedented and it was not until 1990 that the final go-ahead to a massive river spectacular was given.
The final show features many innovative and landmark special effects, including film projection on water screens, setting the river surface on fire, multicolored lasers, custom pyrotechnics, a ten-channel audio system and a 30-foot high fire-breathing dragon with a 20-foot wingspan. "Fantasmic!" debuted at Disneyland in May of 1992 and con-tinues to be a major attendance draw for the park.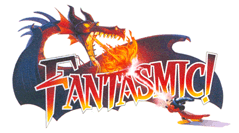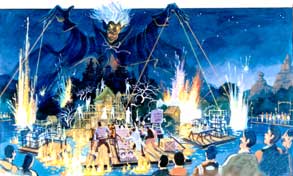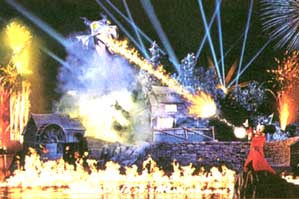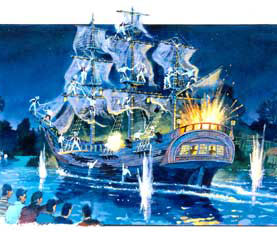 The focal point was an island that was open to the public during the day. A stage and backstage area had to be created that wouldn't exist during the day but could be made available at quickly after nightfall. The audience would be across the river from the stage, so characters and props would need to be increased in visual scale to be effective.
It was desirable to use the existing Mark Twain steamboat and Columbia Pirate Ship in the production, so these would also have to be changed over quickly from public day use to nighttime show use. When it was time to actually begin production, the river itself would have to be drained to provide access to the construction site. A cement bottom for the entire river was needed to stabilize the fountains and flame effects that would be permanently anchored there. There was much to figure out.